Flag & Poles FAQ
How Do I care for my flag?
If you see the ends fraying, you can trim and re-hem the flag, which will help it last longer. If it is an extremely windy day, or heavy rain or snow, take the flag in. Make sure you do not store a wet flag. Let it dry before folding and storing.
how long will my flag last?
It depends on the weather and how the flag is cared for, but at minimum, it is expected to last 90 days. Well-taken care of flags can last longer though. Our Lock-Stitched American Flags are known to last longer than the industry average, sometimes exceeding one year.
are there any requirements for flying the flag at night?
The flag must be illuminated if it is being flown in the dark. Check out our Solar Micro Light if you need to illuminate your flag.
how is the flag disposed of when it is worn out?
The star field is cut out from the flag and then the two pieces are burned together. Local VFWs, Girl Scout Troops, and Boy Scout troops usually have flag retirement ceremonies, just make sure to check with the one in your area.
How Do I determine what size flag would fit my pole?
| | |
| --- | --- |
| Indoor Pole Height | Indoor Flag Size |
| 7' | 3' x 5' |
| 8' | 3' x 5' |
| 9' | 4' x 6' |
| 12' | 5' x 8' |
*These are recommended sizes without any obstruction to flagpoles. If you have trees, gutters, light poles, fences, or any other object that might block the sight line to your flag, please use your best judgment to the size that would best fit your pole. If you have any questions or concerns, please do not hesitate to contact us by email or phone 800-858-8776.
how long should the flag be at half-staff?
Usually the flags should be at half-staff from sunrise to sunset, but on Memorial Day it is sunrise to noon.
What is the proper way to raise and lower the flag to half-staff positioning?
When raising and lowering the flag, bring it to the top of the pole for just a moment before bringing it into position or taking it in for the night.
what if i cant fly my flag at half-staff?
When do I salute the flag?
The flag is saluted if:
It is passing in a parade

It is being hoisted or lowered

The National Anthem is playing

The Pledge of Allegiance is being said
What are the important flag flying holidays?
| | |
| --- | --- |
| Flag Flying Holiday | Date |
| New Year's Day | January 1st |
| Martin Luther King's Birthday | 3rd Monday in January |
| Inauguration Day | January 20th (every 4 years) |
| Lincoln's Birthday | February 12th |
| Presidents Day | 3rd Monday in February |
| Washington's Birthday | February 22nd |
| Army Day | April 6th |
| Easter Sunday | Varies |
| VE Day | May 8th |
| Mother's Day | 2nd Sunday in May |
| Peace Officers Day (Half-Staff All Day) | May 15th |
| Armed Forces Day | 3rd Sunday in May |
| Memorial Day (Half-Staff Until Noon) | Last Monday in May |
| D-Day | June 6th |
| Flag Day | June 14th |
| Father's Day | 3rd Sunday in June |
| Independence Day | July 4th |
| | |
| --- | --- |
| Purple Heart Day | August 7th |
| Labor Day | 1st Monday in September |
| VJ Day | September 2nd |
| Patriot Day (Half-Staff All Day) | September 11th |
| Constitution Day | September 17th |
| National POW/MIA Recognition Day | September 19th |
| Columbus Day | 2nd Monday in October |
| National Fallen Firefighter Memorial Day (Half-Staff All Day) | October 7th |
| Navy Day | October 27th |
| Presidential Election Day | 1st Tuesday following 1st Monday in November |
| Marine Corps Day | November 10th |
| Veterans Day | November 11th |
| Thanksgiving Day | 4th Thursday in November |
| Pearl Harbor Day (Half-Staff All Day) | December 7th |
| Christmas Day | December 25th |
Why is the flag header stamped?
According to the Flag Manufacturers Association of America, the header is not a part of the actual flag. In fact, the Federal Trade Commission mandates any flag 12" x 18" and larger have some sort of attachment to the header listing the origin of manufacturing. It is part of the business principles and practices for the flag industry to label flags to make re-ordering an easier process for customers. Disclosure of stamps are not listed on the websites of any National Independent Flag Dealer Association member, for a complaint arises once in a blue moon. Any customer choosing to forgo branded stamps on their flag's header may request so.
Can i use the American flag as decoration?
Avoid using the American flag for decorative purposes. The American flag is not considered a decoration when displaying it respectfully on a flagpole. If you are looking for American flag decorations, we offer bunting, pleated fans, and pull downs as an alternative.
Can I Use The American Flag As Clothing, such as Part Of A Costume Or Uniform?
No, the flag code specifies that the American flag should never be used as wearing apparel, bedding, or drapery. It should never be used for advertising purposes in any manner. It should not be embroidered on such articles as cushions or handkerchiefs. It should not be printed or otherwise impressed on anything that is designed for temporary use. The flag should never be used as a costume or athletic uniform. A flag patch may only be affixed to the uniform of military personnel, firemen, policemen, and members of patriotic organizations.
How Do I Properly Salute The Flag?
People in uniform, members of the armed services, and veterans should do the military salute. Non-military and non-uniformed persons should remove any head-wear and hold their right hand over their heart while facing the flag.
Am I Allowed To Write On A Patriotic Slogan Or Attach An Image To The Flag?
No, you should never mark the flag in any way. This includes writing words on the flag, drawing numbers or symbols, or attaching any kind of image to the flag. You are allowed to mark on the header of flag, seeing as it is not considered part of the flag, itself.
how should the american flag be displayed with other flags?
The America flag should always be to the left in the eye of the viewer.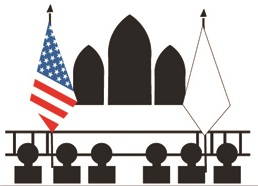 When flying a flag underneath the American flag, on the same pole, it should be at least one size smaller.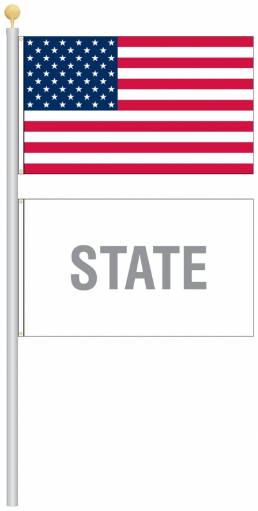 If flying next to state and company flags, the American should be the left.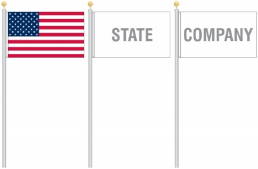 When you are flying the American flag with other nations, the American flag should be first. The nations following should be in alphabetical order.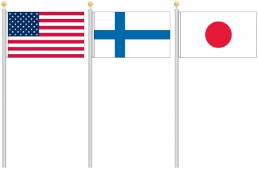 If you are putting the American flag between other flags, it must be in the middle or the highest point.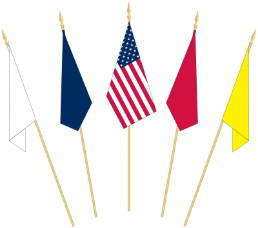 If you are crossing poles, the American flag should be on the right (the flag's own right), and its pole should be in front of the pole of the other flag.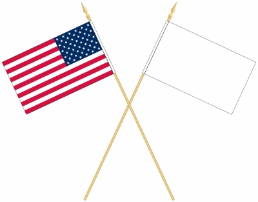 what is the proper order of display for armed forces flags?
Viewing them from an observer point-of-view, left to right, they should fly Army, Marine Corps, Navy, Air Force, Coast Guard, and POW/MIA.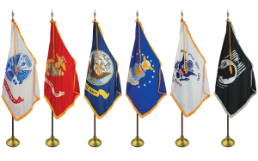 Using An American Flag For Memorial & Funeral Services
What Is The Meaning Of Each Fold During A Flag Folding Ceremony?
The first fold of our flag is a symbol of life.
The second fold is a symbol of our belief in eternal life.
The third fold is made in honor and remembrance of the veteran departing our ranks, and who gave a portion of his or her life for the defense of our country to attain peace throughout the world.
The fourth fold represents our weaker nature; as American citizens trusting in God, it is to Him we turn in times of peace, as well as in times of war, for His divine guidance.
The fifth fold is a tribute to our country, for in the words of Stephen Decatur, "Our country, in dealing with other countries, may she always be right, but it is still our country, right or wrong."
The sixth fold is for where our hearts lie. It is with our heart that we pledge allegiance to the flag of the United States of America, and to the republic for which it stands, one nation under God, indivisible, with liberty and justice for all.
The seventh fold is a tribute to our armed forces, for it is through the armed forces that we protect our country and our flag against all enemies, whether they be found within or without the boundaries of our republic.
The eighth fold is a tribute to the one who entered into the valley of the shadow of death, that we might see the light of day, and to honor our mother, for whom it flies on Mother's Day.
The ninth fold is a tribute to womanhood, for it has been through their faith, love, loyalty and devotion that the character of the men and women who have made this country great have been molded.
The 10th fold is a tribute to father, for he, too, has given his sons and daughters for the defense of our country since he or she was first born.
The 11th fold, in the eyes of Hebrew citizens, represents the lower portion of the seal of King David and King Solomon and glorifies, in their eyes, the God of Abraham, Isaac and Jacob.
The 12th fold, in the eyes of a Christian citizen, represents an emblem of eternity and glorifies, in their eyes, God the Father, the Son and Holy Ghost.
When the flag is completely folded, the stars are uppermost, reminding us of our national motto, "In God We Trust."
After the flag is completely folded and tucked in, it has the appearance of a cocked hat, ever reminding us of the soldiers who served under Gen. George Washington and the sailors and Marines who served under Capt. John Paul Jones and were followed by their comrades and shipmates in the U.S. Armed Forces, preserving for us the rights, privileges and freedoms we enjoy today.
Can You Fly A Flag That Was A Casket Cover?
20 ft by 38 ft American Flag
8 ft 11.75 in x 17 ft American flag
5 ft by 9 ft 6 in American flag
The side of the flag that has either a header or sleeve. This is the side that is raised or hoisted up a flag pole.
The side of the flag that is opposite of the hoist end. This side flaps end the wind and gets frayed after time.